How To Create Unique Business Cards
Want to leave a lasting impression with your business card? Then, make it memorable by creating a unique business card!
In the past, unique business cards were super expensive to print. But nowadays there are many inexpensive ways to make your card stand out. I'll give you some ideas and tips so you can make unique business cards just by changing the shape, size, or material.
Types of Unique Business Cards
To make it easy for you, I created a list of the different ways you can make one-of-a-kind business cards. 

Mini Business Cards
Downsize your card to make it look different. Making your business card smaller may sound counterintuitive to making your card stand out. But when everyone's cards are the same size and yours will stand out as different from the bunch.
Mini business cards also have a cool factor that elevates their uniqueness. They're an inexpensive and earth conscious way to make your cards look unique. 
Eco-friendly & Green Business Cards
Eco friendly and green business cards can be made out of earth friendly materials to make an impact with your client but not the environment.
Plastic Business Cards
Don't just limit yourself to the traditional paper card. Print your information on plastic. Not only are they cool, they are durable.
Beside white, plastic business cards can come in clear and frosted options. Some printing companies use recycled plastic to make this option a more resourceful choice.
Magnetic Business Cards
For certain service industries, like plumbers and electricians, customers want your business information to be easy to access at a moments notice. magnetic business cards magnetic business cards are a great way to make your card convenient and useful.
Folded & Fold Over Cards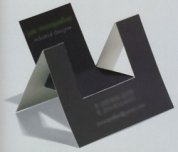 A foldable business card for an industrial designer. © Best of Business Card Design 8
Upgrade your card from 2D to 3D with folded or fold over business cards. Like in the example shown, you can make unique objects or shapes from folded cards.
Die-cut cards
Your cards no longer have to be square or rectangle. Make your cards into an eye-catching shape or even the shape of your logo using a printing company that does die-cut business cards.
Raised ink cards
Raised ink business cards have been around for years. But in the past, they came in only 2-3 colors and only the text was raised. Now, you can use raised ink to display colorful images on your cards or to add texture. And the ink comes in as many colors as imaginable.
Unique Business Card Inspiration
Need fresh ideas? Creating a distinctive card can be difficult. It may call for a lot of time brainstorming and looking through cool business cards for inspiration to come up with something of your own.

But, you can do it!
Here are some helpful articles for you to pull inspo from.
Before You Choose Any Style...
I recommend that you don't jump into a new design before really thinking about how it will affect your business' image, how much it will cost to produce a unique card (some options can get pretty expensive), and how practical it would be for your business.