Design Your Own Business Cards:
Leave A Lasting Impression
A business card is like a mini billboard for your business. The way your card looks and what's written on it says a lot about you.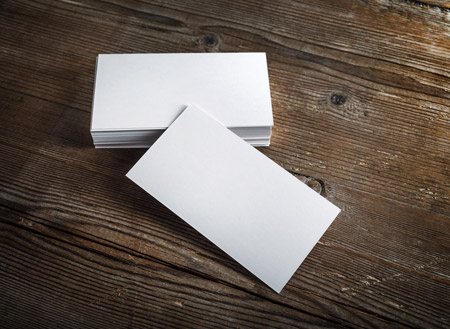 Your business card can work/speak for you long after it has exchanged hands.

If your card is well designed, a customer is more likely to remember you and hold on to your business card.
Your card can leave a positive lasting impression if it's designed correctly.
On the other hand, if its designed incorrectly, it can turn customers away.
That being the case, I'll help you through the process of designing an effective business cards.

---
Decide What Information You Will Include
First things first, consider what information you will or won't share on the business card.
What you put on your card may possibly affect the design and style of card, the shape or size, and your printing options.
Things that can be included on a business card are your:
name, 
title or position in the company, 
logo and slogan, 
phone number - business or cell number, 
website, 
social media, or 
possibly a short description of what your business does.
As you can see that's a lot of info to fit on such a tiny card! So, plan ahead and decide what's the most important info you want your customer to have on hand.
Don't know what information to include? Check out my article about key information to include on a business card.
Once your cards are printed, there's no going back to make changes without having to do a reprint.
So, check your work twice before printing to make sure you don't leave out something as important as your email or website.
Start Designing With These Pro Tips
Designing business cards can be fun and exciting - especially if you're just starting a new business. They're one of the first things that make your business feel official.
Since you are going the DIY route, it's important to keep in mind basic graphic design principles like balance and proportion.
Business cards are very tiny, so avoid crowding out your design. Here are some specs I used as a print designer
**It may be helpful to review how colors and color theory play an important part in your design.

Size
The standard business card size is 3.5 inches wide by 2 inches tall. If you want a card that's a little less ordinary, change the orientation from landscape to portrait - so that it's 2 inches wide and 3.5 inches tall.
An alternative size that gets people's attention is the mini-sized or slim business card. They measure about 3.5 inches by 1.5 inches. But these may only work for you, if you have very little info to put on the business cards.
Margins
Similar to how you leave blank margins around a letter, you need to leave margin around your business card for breathing room.
Pro tip: Leave either a 1/4 inch or 3/8 inch margin around all four edges. 
Font Size
There's no rule set in stone as to what font size you must use on a business card. But typically, business card designs require a smaller font than what's typically used on something like a business letter.
Depending on what font style you use, I recommend going with a font size between 8px-10px. It's small enough to fit all your info. Yet, large enough for most people to see.
Print Your Business Cards
It's totally possible to print your business cards on your home printer. You just need the right type of business card paper and a little bit of patience. On that page, I share paper options that can elevate your DIY business cards and paper options you can buy on Amazon.
Alternatively, you can design your own business cards and then have it printed by a professional printing company.
Did You Know?

Did you know that proper business card etiquette exists? 
Similar to how there are certain rules or manners you should display at a dining table, there are proper ways to exchange your business card. 

Related Articles:
Unique Business Card Ideas
The value of a business card specialist