All About Raised Business Cards
Thermography business cards, also known as raised business cards, have been around for a long time now.
And although glossy business cards have also come into the picture, raised print business cards still hold their ground and remain the one of the choice options for certain business professionals.
What is it about raised business cards that professionals like?
Raised ink cards have a classic, traditional look to them like no other style of business card. You can feel the texture, depth and height produced by the raised ink which makes them very unique.
Too, thermography business cards are cheap business cards yet are acceptable because they look and feel expensive.
Typically these industries (as a whole) use raised print business cards:
Law
Finance
Hospitality
Medical
Automotive
Construction
Maintenance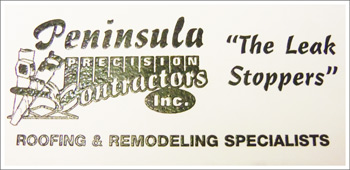 But even if you aren't in any of those particular industries that doesn't mean you shouldn't use raised business cards. Start-up businesses also tend to use thermography cards due to their professional look.
The Technology of Raised Ink Cards Keeps Advancing
Years ago, you could only print raised ink in standard colors like red, blue, black, and green. That's why for the most part, you still see raised print business cards today in standard colors like the ones pictured above.
But as technology keeps advancing more and more, those limitations are becoming a thing of the past.
As you can see (pictured to the right) you can get full color raised ink business cards.
Not only is it full color, see how the whole card is textured in raised ink!
Although not all printers have this capability, if you find the right printer, your cards can be something amazing!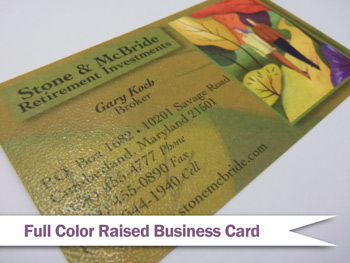 All About Raised Business Cards Return to Top