Where to Get Free Printable Flyers
Creating free printable flyers is one of the quickest and cheapest ways to get started promoting your new small business.
You should consider getting cheap flyers done only if you are a new business and plan to get some designed professionally later or if funds are low at the moment.

Otherwise, sticking with cheap flyers could be a waste of time and money. Why?

First impressions are hard to change once made. Putting out the best quality ensures that you are putting forth the best impression.
So before you create a free printable flyer consider this: Do you want to hand out a flyers that may not make the best impression to just have them out there or effective ones that get the job done?
Have you been looking for a way to create the flyer with the tear off tabs? Easily create tear off flyers in one easy step right here on my site. If you are interested in using some of my free templates, make sure to visit my free flyer templates page. 

You will be able to customize and print them directly from your computer. Make sure to come back to see new releases!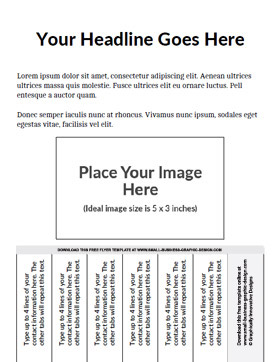 This is a free multipurpose flyer template that can be customized to offer lawn care, handyman, cleaning services and much more.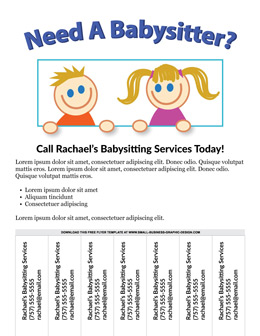 This is a free babysitting flyer template. The photo is included and the template allows you to customize the wording.
Think You Could Use Some Help?
Along with offering FREE design tips to small business owners on how to create their own marketing materials, I also provide design services.

Though you may now know what should be included in designing a flyer, do you feel like you just don't have the time (or patience) to learn all there is to know about graphic design AND do it yourself effectively? Why not have me design you a new flyer!

Having a flyer designed professionally comes with its benefits such as:

Time saved by not having to do it yourself. (Your Time = Money) 
Not having to spend more on the tools and programs needed to design promotional items 
You get what you pay for. (When you pay to have things done right, you reap the benefits likewise.) 
Knowing that it is designed properly. Everyone is not a designer.

Click here to contact me for my design services.
Where to Get Free Printable Flyers Return to Top