11 Beautiful Flyer Design Ideas
for Inspiration
Need some flyer design ideas? Then take some inspiration from these examples.
In this article, all the designs featured are courtesy of StockLayouts.
StockLayouts sells flyer templates and other print media templates.
Professional flyer templates are an easy way to create cheap flyers. Why? Because you get a high quality design at a great price and then you can choose to save money even further by printing them at home, or at a local printer of your choice.
Each flyer template is shown in different orientations and sizes to show you how they can be varied and yet represent the same company or brand.
---

If you see a flyer that you like, all of these flyer examples can be purchased through StockLayouts.
---
1. Painting Company Flyer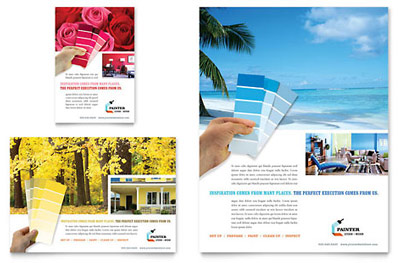 2. Bakery Flyer

This bakery flyer was well designed because it uses a rich golden color to appeal the viewers taste buds. T colors also helps you imagine the warmth of the fresh baked breads.
If you're in the food related business use what I call "taste bud igniting" colors like red, yellow, and orange to appeal to your customers.
3. Family Dentistry Flyer

The bright photos and clean cut design of this flyer gives off a warm and inviting feel. Do you offer a service with personal care? Then take note of how this flyer has a personal feel.
4. Pizza Restaurant Flyer

5. Spa Flyer Design Ideas

Spa and beauty related businesses should consider using flyer designs that are calm, uncluttered, and balanced.

6. Lawn Care Flyer
7. Fine Dining Restaurant Flyer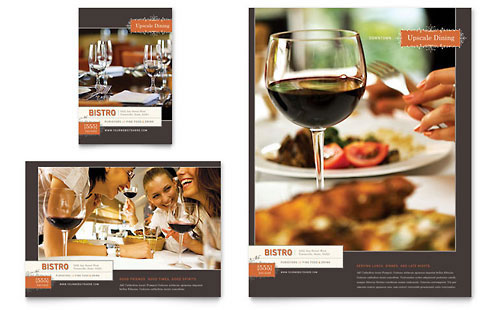 8. Classic Diner Flyer
I love the old-fashioned feel of this flyer.

What details make this flyer have that classic American diner look?

Take note of the font, the black & white pattern border, and the red, white, & blue color scheme!

9. Real Estate Flyer
A realtor's flyer doesn't have to always be in plain black and white. Design a flyer that complements the house and give your potential buyers a great first impression.
10. Local Farmers Market Flyer
This design uses a deep and earthy, yet festive color scheme. I also like how this design uses graphical images related to the subject to make the flyer look interesting.

11. Wedding and Event Planner Flyer
If you enjoyed this article be sure to check out the related articles below.
11 Beautiful Flyer Design Ideas Return to Top
Back To Creating Flyers That Work