Professional Babysitting Flyers

With professionally designed babysitting flyers, you can put your babysitting services above the rest.
The designs featured on this page were personally designed by me and created for those of you who want a more branded and professional look.

Customizable Babysitting Flyers for Sale

If purchased separately, each template costs only $12.99 each.
Or, purchase the bundled set of 3 flyers for $29 - that's a savings of 25%.
The bundled set comes with a BONUS Quick Start Guide. This guide gives you specific tips as to what information to put on a babysitting flyer as well as where you can distribute them.

I know that you want to get started putting out flyers fast, so that's why these flyers were created for you to have no guess work involved.
You won't get hung up having to learn a new program, decide what font or colors will work, or find a decent picture to use.
All those decisions can slow you down and that's why these babysitting flyers have preset colors, fonts, and images for you.

Find out why I call these designs no-hassle templates.

Babysitting Flyer Design 1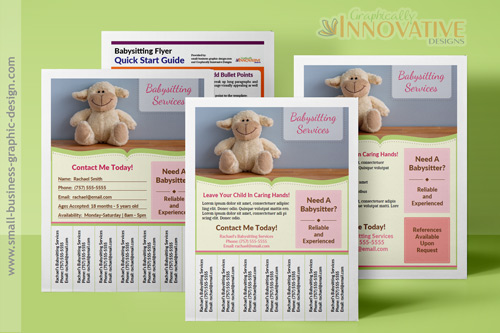 Buy the Bundle and Save 25%
Each Bundle purchase comes with a Free Copy of the Babysitting Flyer Quick Start Guide

Only $29


---
Only Need One Template? Purchase The Templates Separately

Why are these considered no-hassle template designs?

No fancy programs are needed - Each template is a PDF file. So as long as you have a current copy of Adobe Acrobat Reader - which you can download for free - you can easily customize this template and print it on your home printer.
All images shown are included for free - The photos in each template were hand-picked for each design and are free for public use under the CC0 license. So you don't have to worry about finding or buying photos to use in the design.
The text areas are pre-formatted - All the fillable text boxes in each layout are pre-formatted meaning that the type of font, size, and color is preset and won't change - so you can achieve the same professional look of the demo flyers.
It includes the basis for an effective flyer - Have you read my post about the 5 Key Elements For An Effective Flyer Design? I created these professional babysitting flyers with those key elements in mind. So you have the base you need that allows you to include all 5 elements in your flyer.
Every bundle purchase comes with a helpful Quick Start Guide - This guide has practical tips to help you write the main message of your flyer as well as a list of places you could post your flyer. (This guide is not sold separately.)

So as you can see, these templates are designed to help you create a great flyer... FAST!

What can be customized?
All the wording on the flyer can be edited with your own, personalized marketing message as long as it fits in the allotted space.
That way you can change the text to suit your needs. For example, if you want the call to action to say "Contact Us" instead of "Call Me Today" you can do so.

How to Purchase:
Click on the "Add to Cart" button featured below the template design you want.
Pay securely via PayPal. (Most major credit cards are accepted. A PayPal account is not required to pay.)

After you have successfully made your purchase, you will gain access to a link that will allow you to download your file(s).
Terms of Use:
Prior to purchasing or using any of my templates, please take time to view the Template Design Terms of Use.


Have any questions?

---
More Info About the
FREE BONUS

-- Quick Start Guide


Need a guide that gives you a practical ideas as to what to say or do with your flyers?

I've written up a Quick Start Guide specifically for those of you who purchase the template bundle.

It's a one page guide that covers the topics...

What to write about in the main message area

What contact information to include
How to distribute a babysitting flyer
That way you can get started fast and make a good impression.
This guide is not sold separately anywhere else.

---
Buy All 3 and Save 25% Today
Only $29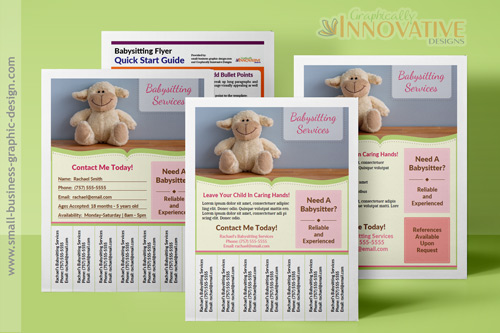 ---
Want To Know When New Flyer Template Designs Are Released?
Want a Custom Flyer Design?

Do you want custom babysitting flyers designed specifically with you or your business in mind?
I can make what you envision come to life or create a unique design based on your current branding.

The average price for a fully custom designed flyer is $85.
Contact me to make your next flyer!