3 Website Design Small Business Myths Debunked and Exposed
I'm here to set some things straight about a few website design small business myths/misconceptions. I hope that by debunking 3 common myths about business websites, you will see why it's important to not hold back from getting a website for your small business.
Website Design Small Business Myth #1:
"Our Customers Aren't On The Internet"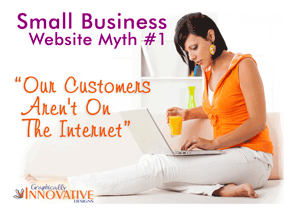 Have you ever found yourself saying that? Well if you have, it's not just you.
But what most small business owners don't know is that about 85% of Americans are using the internet. And actually, according to several studies, your customers ARE most likely to be on the internet.
So, what do you think they may be looking for, you may ask?
Well, they could be looking for your location, hours of operation, contact information, online coupons, reviews, or more about your products or services.
Even if you still feel that your customers are possibly in that 15% group that don't use the internet, are your sure you want to take the risk of assuming that?
Think about this: If your competitors are on the internet shouldn't you be there too?
Website Design Small Business Myth #2:
"Websites Aren't Affordable"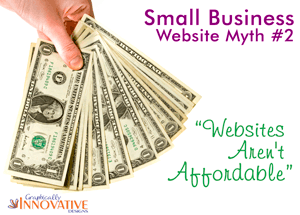 You have probably heard of websites that cost thousands of dollars, haven't you? Do you think that a website is worth that amount?
Some are and some aren't. What's important is that when you spend your money, it's worth every dollar you spend.
But I think the most painful mistake an owner can make is to build a website themselves to save money.
Most of the time you see design companies that have all these bells and whistles, you pay a lot of money and in the end get a glittery website that doesn't get found by the search engines.
But, really, you can find an affordable website, it's just not anywhere. I realize that small businesses aren't growing money trees on their property and so do others designers.
But, how do you know who to choose? To answer that question in full that would be another large post, but to put it simply,... these are things that I strive to give my clients: a reasonable price with up-front costs and a website that is built to be found and user-friendly.
Website Design Small Business Myth #3:
"Our Printed Marketing Materials Are Enough"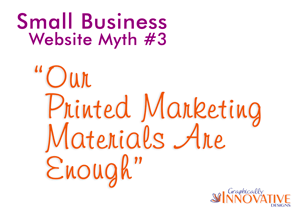 Though you may be sending out postcards and handing out flyers, how sure are you that the receiver keeps or even reads the item?
A printed item can get lost but a website can be accessed 24/7 and easily remembered by its address for later reference.
Here's another point:
With more technological advances and initiatives to go green, many print advertising resources are declining.
Have you noticed how thin the phone book is these days? That's because print media such as newspapers, directories, and phone books are now being accessed online causing businesses to rely more on their website.
So, Where Do You Go From Here?
Well, if you now realize that it is time to get a website, why not start right away! Take the steps necessary to get a website, no matter whether you create your own website for the time being, or better yet, have someone else like a graphic designer create it for you.
Remember, small business marketing does not rely on print materials alone.
If you are interested in my services, or you would like to know a little more information about me and my services visit my Web Design Services page.
Also, for more great articles about website design, small business marketing and promotion, subscribe to my RSS Feed.
Related Articles:
5 Questions Small Business Owners Ask About Buying A Domain Name

Why Small Businesses Need A Website?
Back to Learn Website Design

Website Design Small Business Myths Return to Top