Printable Handyman Flyers for Sale
These handyman flyers will make marketing your handyman business a breeze.
How so?
Simply put, these flyers are made to be stress-free. That's because they don't require any additional programs to edit, and the design is preformatted so that you don't have to worry about picking a font, colors, or photos.
It's all done for you, so you can focus on more important things... running your business.

Handyman Flyers for Sale

You have two (2) options. You can buy the flyers individually or as a bundled set.
Each handyman flyer template is $12.99.
But your best deal is when you purchase the bundled set for only $29.
By purchasing the bundle, you save 25% AND receive a FREE BONUS Quick Start Guide.

Handyman Flyer Design 1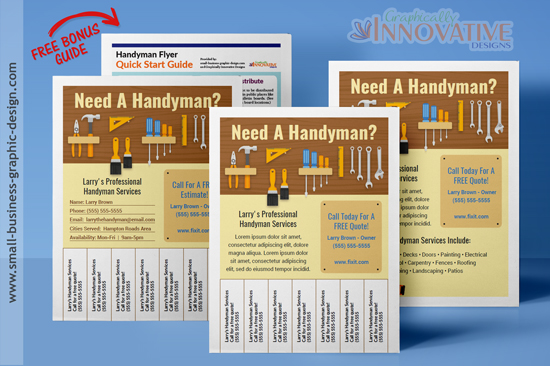 Buy the Bundle, Save 25%
Only $29


How are these made to be stress-free templates?
It doesn't take an expensive program to customize these flyers. - Each template is a PDF file. So all you need is to use Adobe Acrobat Reader - a program that's free and usually pre-installed on most computers.
You'll be able to create an effective flyer, FAST. - Every design includes the basics you need for an effective flyer design.
The photos and graphics in every design are included. - You don't have to worry about finding or buying photos to use in the design because they are included for FREE.
All the text boxes are formatted for your convenience. - These handyman flyers take the guess work out of the equation. They already have preset fonts and colors that won't fluctuate - so you can achieve the same professional look of the demo flyers.
The bundle comes with a handy Quick Start Guide - I personally wrote this guide to give you a

jump start. You'll get specific suggestions on what to write for your flyer and where to distribute each type of flyer.

(This guide isn't sold anywhere else.)

What can be customized on the flyer template?
Any of the text that you see on the flyer can be customized with your own marketing message as long as it fits in the allotted space of the text box.
For example, if you want the headline to say "Want A Handyman?" instead of "Need A Handyman?" you can do so. Change the text to suit your needs.

How to Purchase:
Click on the "Add to Cart" button featured below the template design you want.
Pay securely via PayPal. (Most major credit cards are accepted. A PayPal account is not required to pay.)

After you've successfully made your purchase, you will gain access to a link that will allow you to download your file(s).
Have questions?
Please don't hesitate to ask.


Terms of Use: Before you buy or start using any of my flyers for handyman services, please review my Template Design Terms of Use.

Receive Alerts When New Handyman Flyer Designs Are Released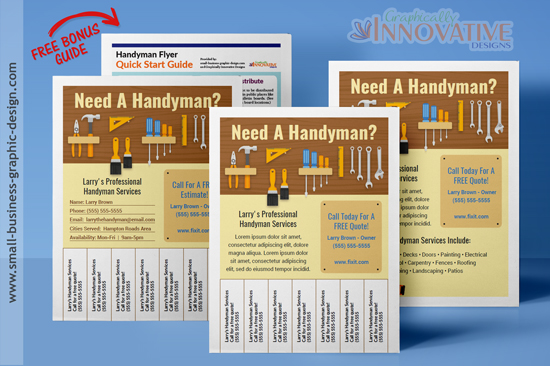 Buy the Bundle, Save 25%
Only $29


---
Want a Custom Flyer Design?

You can have custom handyman flyers designed just for you.

I can make your idea come to life or make a flyer design based on your current branding. Simply send me your own logo, photos, and text and then I'll create a branded flyer for your business.

The average price for a fully custom designed flyer is $85.
Contact me to make your next flyer!