Free Handyman Flyer Template With Tear Off Tabs

Start marketing your handyman services FAST with this free handyman flyer template.
Your handyman business depends on you actively marketing yourself. There's no better way to do that than by using flyers.
Homemade printable flyers are the most affordable way to get started. That's why I've created this free downloadable template.
Receive this for FREE when you subscribe!
By simply signing up to my e-list about inexpensive and free handyman flyers you will receive a link straight to your email to download the template.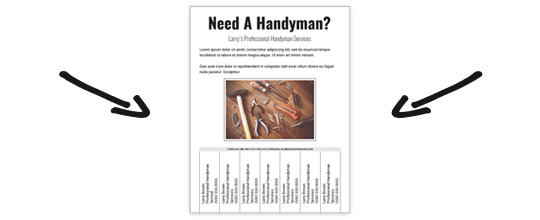 Note: Your email address is secret safe with me. I respect your privacy and will not share or sell your information. This flyer is free for your personal use and cannot be resold. Please see Terms of Use.
About This Free Handyman Flyer Template
You'll be able to save it to your computer, add your information and print as many as you need using your home printer.
My flyer is absolutely hassle-free because you don't have to buy any extra programs to use this template.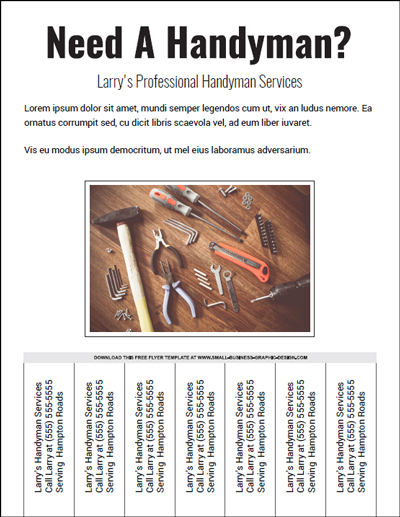 This is a preview of how your flyer will look using the free template.
All you need is a program that just about everyone has one their computer - Adobe Acrobat Reader. If you don't have it, you can download the latest version for free on Adobe's website.
There are 3 editable fields on this template for you to add your information. You can edit the tab areas, the secondary headline underneath "Need a Handyman?" and the main message above the photo.

The photo of the various tools sitting on a wooden background is included in the design.
Want An Upgraded Design?
I sell premium handyman flyer templates that are a step up from the basic design.
The functionality is still the same, so that means it's just as easy to use as the free flyer... but the upgraded design sets it apart.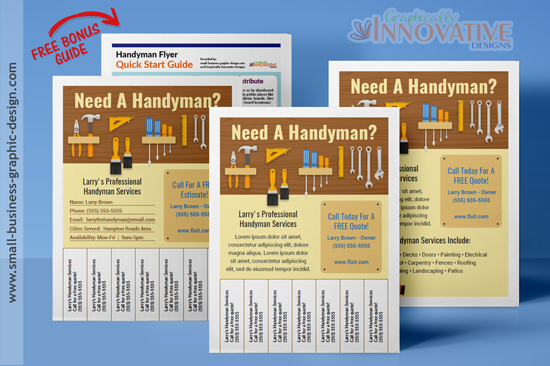 You can buy these flyers separate or as a bundle.
The bundle comes with a free bonus guide that gives you handyman specific marketing tips such as suggestions for what to write on the flyer and where to distribute them.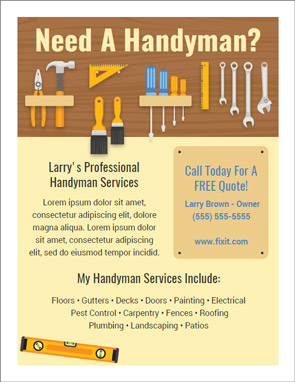 Back to Free Printable Flyers page