Free Flyer Templates Online
Here I have created a few free flyer templates.
You'll be able to customize them here online and print them directly from your browser.
Use the templates for whatever you want: advertise your startup business, promote a side job, etc.
All I ask is that you leave a brief comment or suggestion, using the Contact Me Form provided. Let me know if you have had any success using the flyer template. I would love to hear your story!
Why I Have Decided To Give Away Free Flyer Templates
You may be wondering, "Why is Rhonda giving away free printable flyers, when she offers design services?" Well, here's my answer to put it simply, I am doing this as a public service.
I realize that there are a lot of start up businesses on a budget that need things such as simple flyers and business cards to get started. Too, there are people who are doing side jobs such as handyman work or baby sitting that could use free templates.
By me offering things such as a free flyer template, I hope though that in the future you will eventually use my services when you are ready to take your marketing to the next level.
A Recent Comment From A User Of The Flyer Templates:
"Very glad I found your site. I have Word 2003 and was unable to find a simple flyer template that had the tear off tabs. Your template was VERY easy to use! Thanks!"
— Ione C.
Here's The Newly Released Flyer Templates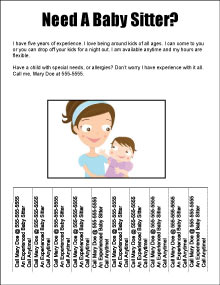 To the left is an example of the Tear-Off Tab Flyer you will be able to create.

The flyer template will open in another window, in which you will be able to customize the flyer.

Each will open up in PDF form. You can only edit the areas specified and print.

You will not be able to save it to your computer, so make sure that you do not close the browser if you are not finished.
Click on the links below to choose the free flyer templates you would like to use. Please be patient, they may take a while to load.
Tear-Off Tab Flyer (7 tabs) - Recommended for those who have about three lines of information to put on the tab. (Thicker Tabs) *Please give the file a few seconds to load*
Tear-Off Tab Flyer (10 tabs) - Recommended for those who don't have but one or two lines to place on the tab. (Thinner Tabs) *Please give the file a few seconds to load*
Have Your Flyers Professionally Designed
Along with offering FREE design tips to small business owners on how to create their own marketing materials, I also provide design services.
Though you may now know what should be included in designing a flyer, do you feel like you just don't have the time (or patience) to learn all there is to know about graphic design AND do it yourself effectively? Why not have me design you a new flyer!
Having a flyer designed professionally comes with its benefits such as:
Time saved by not having to do it yourself. (Your Time = Money)
Not having to spend more on the tools and programs needed to design promotional items
You get what you pay for. (When you pay to have things done right, you reap the benefits likewise.)
Knowing that it is designed properly. Everyone is not a designer.
Click here to contact me for my design services.
| | | | |
| --- | --- | --- | --- |
| | | | |