Website Development and Design: What's Included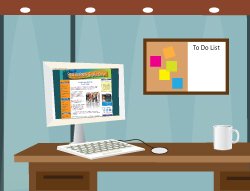 web-graphic-designer
Do you think that all web designers are equal? Anyone can claim they have excellent website development and design services, but can they really show you the value of their offer?
Most business owners aren't just looking for a "flashy" website with all the bells and whistles. You want to rest assured that what they are investing in is well worth the dollars spent.
That's what I'm all about! My job is not only to make you and your business look good but to also create what I call an effective business website, one that works for you... not you working for it. What do I mean by that?


Just as important as it is for a brick and mortar business to be situated in an optimal location, location, location... an effective website should be created based on getting traffic, traffic, traffic. Your website should be built from the inside out so that it can attract visitors and traffic to your site.

I believe that if I am going to provide website development and design services, my services should be second to none. I create dynamic websites that are well built and cross browser tested to ensure your website will properly display to most visitors.
Here's a list of items I include in every website development and design services.

Website Analysis and One-on-One Consultation – Before creating your website, we will have an one-hour over the phone consultation to see where your online presence currently stands and how it can be improved. Together, you and I will discuss design ideas, the website plan, and/or marketing strategies. During this time, I also like to personally get to know you and your business to better understand how I can assist you towards your business goals. Not all designers take this crucial step which I believe is important to creating a website you will love.
Custom One-Of-A-Kind Design – The website I create for you will not be simply a template that you'll see anywhere on the web. Not at all! You will receive a custom work of art created by me that will distinctly set you apart from other businesses. And, not only will it be unique, the design itself will be search-engine friendly... meaning, your design will not be sliced.
Basic Search Engine Optimization (SEO) – Web surfers can't find you if the search engines don't know you're out there. SEO helps your website get found and indexed by search engines like Google and Yahoo. When your website is indexed by search engines, it's more likely to be found by potential customers. Basic SEO is included with each web design. If you want to take your SEO even further, I also do advanced SEO services upon request.
Google Analytics Setup – With a Google Analytics account you can see where your visitors are coming from, how long they stay and your most read pages. In the long run, you can use this information to know how to attract more visitors which can lead to new customers. I can personally set-up your very own Google account so that you can get the latest traffic stats about your website.
Social Media Integration – Social media is the new technical way to promote word of mouth marketing — which is sometimes the best type of marketing because people trust their friend's opinion over a stranger's. By adding social media share buttons throughout your entire website, it allows your visitors to share your business website with their friends, interact with your business' social media accounts, and expand your website's reach to a bigger audience.
Social Media Account Setup – We have now come to a point where having a social media profile is a must. A social account coupled with your website gives your business a personal touch and boosts your credibility. If you don't have an account yet, I will setup one for you on any of the largest networks such as Facebook, Twitter, and Pinterest to help you get started. If you already have an account, I can make a custom profile picture or cover to match your new website design.
Custom Email Addresses – Like most businesses, you want to look more professional and well-established and less like a fly by night company or a here today and gone tomorrow scheme. Instead of having that @yahoo.com or @hotmail.com email address, you will have your very own professional business email address. (Ex: yourname@yourdomain.com)
Related Pages:

Why Choose Graphically Innovative Designs?

Website Development and Design: What's Included Return to Top