Facebook Business Page Management
Hampton, VA - Graphically Innovative Designs
You may have found that it was easy to setup your Facebook business page but now you have come across a new challenge... maintaining an active business page.
Don't worry though. You're not the only business owner who is going through this same struggle.
For most who are struggling to maintain an active page, it all boils down to not having enough TIME! Don't you agree?
Have you ever said any of these following statements?
"I am just too busy to write a post on Facebook."
"I don't have anything to talk about today."
"I make posts but our fans are not interacting with us at all."
If you find yourself saying one or more of those statements, I don't blame you. More and more businesses see the need for a social media manager — someone who will monitor you Facebook business page, make posts and comments on your behalf and also help you figure out what type of posts will get your fans talking.
Let me help you manage your Facebook business page! My main goal is to grow you to the next level of Facebook marketing, where your fan engagement increases and in turn it builds visitor's trust, your credibility, and brings you closer to prospective customers — that's were you potentially make your money.
Not only will I make posts in your behalf, I will see how to best engage your visitors. I analyze your business fan page and determine what posts will appeal to your fans, when is the best time to post, and how to make your post stand out on their Timelines.
I have created two solutions for you to choose from that are super simple. Find the one that best suites your business below.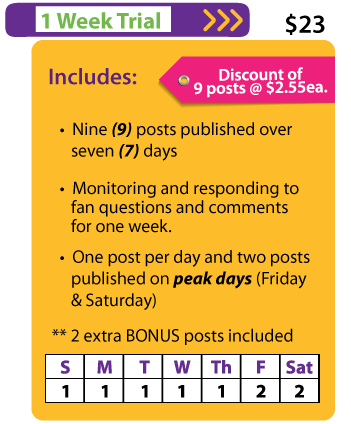 The 1 Week Trial package was built for those of you who would like to test out the waters and see if having a Facebook business page manager is right for you. This way you can test out my services without feeling like your stuck in a long commitment.
I'll publish nine text and/or photo posts throughout 1 week including two bonus posts that will be published on the weekend — which are the peak days that more people are on Facebook, meaning your posts are more likely to be seen.
This package includes monitoring, so you don't even have to about answering comments or questions after the posts are done. Leave that to me!
This 1 month management package is specially made for the Facebook business page that has a lot of fan activity and needs someone to keep up the momentum.
Once you and I discuss your Facebook business page in more detail, we will set plan for optimal posting based on your fans and your needs. The week chart above is an example of a tentative plan for posting status updates. For most businesses, this plan works well — where I update your page once a day during peak hours and twice on weekends for one month.
Post monitoring is also included in this package, so you don't even have to worry about answering comments or questions pertaining to status updates.
If you would like to have your page managed for more than one month straight, let me know when placing your order. Discounts are available for management commitments over 9 months.
Facebook Business Page Management Services
Order Form
Ready to get started? Simply fill out the order form below or call me directly at 757-218-4053 to talk about having your Facebook business page managed by me.
Once I receive your order, I will contact you to do an over-the-phone (or email) consultation to learn more about your business and talk more in-depth about a Facebook marketing plan moving forward. At this time too, I'll send you a PayPal Invoice for the package amount.
I look forward to working with you!
| | | | |
| --- | --- | --- | --- |
| | | | |