How To: Create a Custom Facebook Fan Page
Having a custom Facebook fan page or business page is all the rage now. And it's something you can and should do as a small business because your page should reflect your brand.
In this article, I will cover the three areas in which you can customize on your business page:

1) the business profile picture,

2) the photo strip at the top of the page, and

3) a custom welcome tab or page.

Too, I will give you helpful suggestions on what to add to make your customizations effective.
Custom Facebook Fan Page Profile Pictures
If you have not yet done so, the first step to creating a custom Facebook fan page, is to customize your profile picture. Why? Because that image that will be seen and used the most on your page.
Your business profile picture is the first thing that your visitor will see... and see a lot of while visiting your page.
Too, Facebook uses the profile picture to generate a thumbnail and that thumbnail shows up as the little image by your posts on your wall and fan's news feed.
There are two important things to remember when creating your own profile picture.

1) Keep in mind that your image can be no greater than 180 pixels wide by 540 pixels tall.
Although it can be smaller than those dimensions, why not use that FREE real estate to the fullest. There are so many things you can include in that area that can boost your business image.
2) Design your profile picture with the thumbnail image in mind. The example to the left leaves ample space around the logo to allow it to be cropped as the thumbnail.
I've seen many companies big and small that do not consider this aspect and the bad thing is that the thumbnail image ends up looking chopped off and unprofessional.
Customized Profile Photo Strip
The photo strip (or filmstrip, as I like to call it) at the top of the profile is another way to brand your profile page. There are many things that you can display depending on what type of business you own.
You can display your products, business building/storefront, logo, etc. The main idea is to put images on your strip that are relevant to your business & brand while at the same time being eye-catching. Whether it be informational, promotional, or whimsical is up to you. Have fun with your filmstrip and be creative!
There are five photos that you can customize and the size of each is 97 pixels by 68 pixels. It's best to size down the photos before uploading them to Facebook so that you can have control over how they will display. Be careful that when you add new photos in the future that you specify those to not show up on the filmstrip.
Take a look at the screen shot below of Oreo's filmstrip. I love their photo strip because the images are sized just right for the block and look presentable, fit the brand's style and displays their product prominently without being overwhelming.

Custom Welcome Tab
If you have been on other Facebook pages for bigger brands like Coca-Cola, McDonald's, Cheez-It, CBS, Amazon.com, Budweiser, Harley-Davidson, BMW, Macy's, UPS, etc... the list can go on... you will see that they have spectacular fan pages!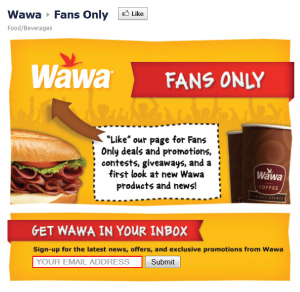 Just like them, you can have a custom Facebook fan page! Getting your own custom tab is not too hard to do. There are several free apps online that will allow you to add a tab to your page.
The first custom Facebook tab that I recommend you add is a welcome page.
Create a welcome tab that will greet your fans and invite them to like your page. It has been a known fact that a welcome page increases the chance of getting a "Like" or new fan.
To the left is an example of one of Wawa's custom tabs. To entice visitors to "Like" their page, they offer incentives, which in this case are exclusive deals and promotions.
Related articles:

5 Facebook Marketing Do's and Don'ts