12 Yummy Pizza Restaurant Custom Facebook Fanpages
Pizza restaurants are discovering that their custom Facebook fanpages can be a hot marketing tool. Many have found success in displaying their coupons, latest promotions, and even their menu on their custom tab feature.
I decided to pull together a few of the many Facebook business pages out there to showcase some of the bright Facebook marketing ideas you can possibly use for your business page. No matter what kind of industry you are in, the ideas/concepts behind the custom tabs featured can translate from business to business and I will explain that in some of the captions below.
Check out the screenshot examples, and see what you could be doing NOW, to make your custom Facebook fanpages out of this world! Warning: Images below may make your mouth water!
1. California Pizza Kitchen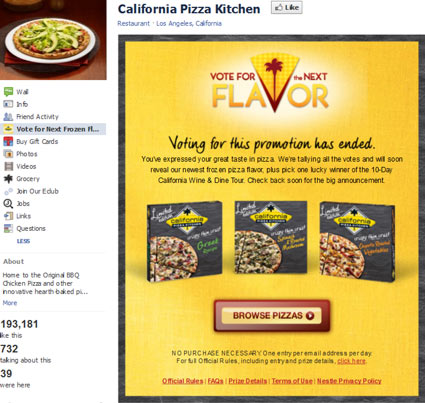 One thing fans love is the ability to voice their opinions to companies. People want and need to be heard and that's exactly what California Pizza Kitchen decided to do. They let their fans choose the next pizza flavor. How could you let your fans have an opinion when it comes to your business?
2. Buckhead Pizza Co.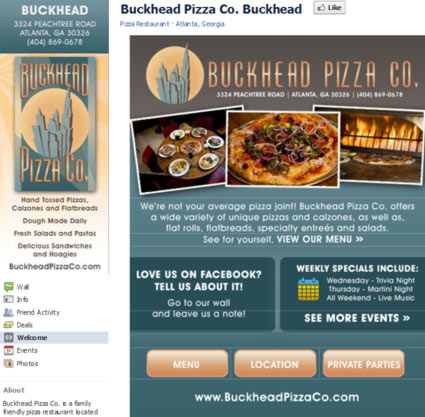 Buckhead Pizza Co. created a page that allows the user to click the buttons on the bottom of the page to go to various places on their website. If you need your Facebook page to send traffic/visitors to your website, use a custom Facebook fanpage tab to direct the traffic where you want it to go.
3. Cici's Pizza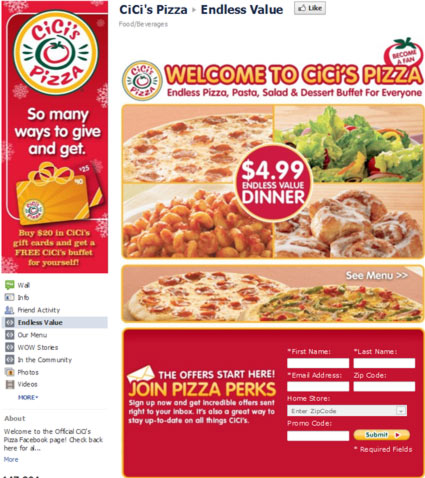 How mouth watering are the pictures leading to the Pizza Perks program sign up form. Who can resist not signing up?
4. Domino's Pizza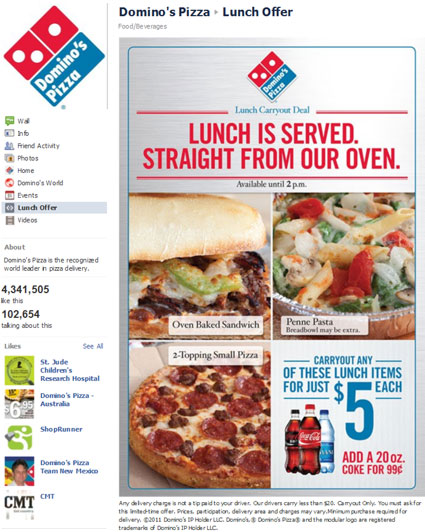 Like Domino's, you can use your custom tab to feature your latest deal or special. This idea or concept can really be used across the board with small business marketing. No matter what type of business you are, consider getting a custom tab to feature a special that you are running and share it on your wall.
5. Mozza Pizzeria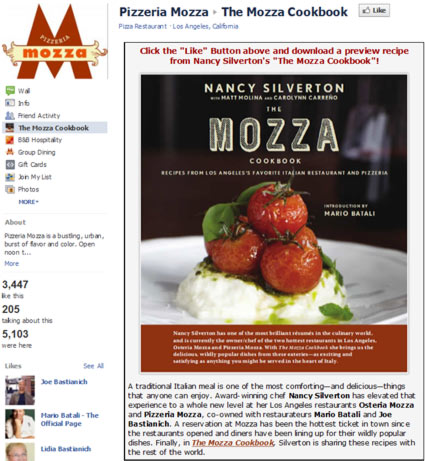 Mozza Pizzeria thought out of the box by offering a special e-book of recipes for visitors "Liked" their page. Anyone in business can also use this idea!
Think about what topic you have valuable information about, that is based on your knowledge in the industry. Could you make an e-book and offer it as an incentive to your fans?
6. Flippers Pizzeria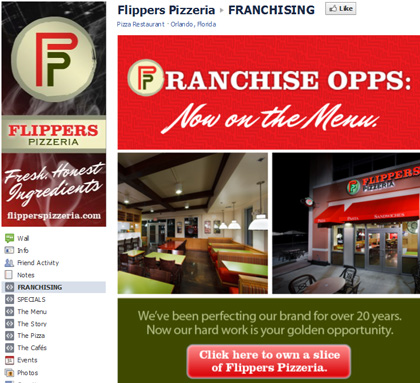 Considering the fact that they may have business opportunists following their page, Flippers Pizzeria built a separate custom Facebook tab aside from the specials and menu tab, that is directed to potential franchisees.
A lesson to take away from this fanpage... don't put all your various marketing messages on one custom tab. You may need to create separate tabs to convey different messages to different people on your page. That way your message will be more effective.
7. Pizza Hut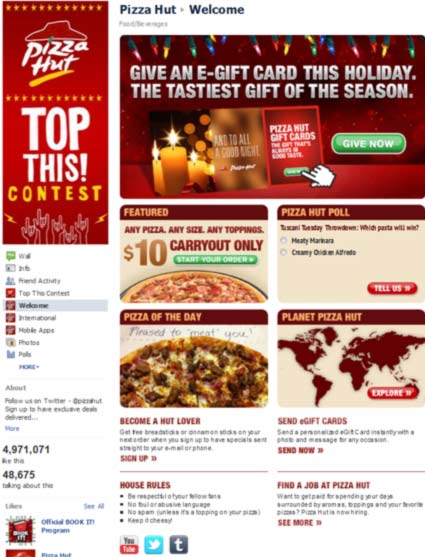 You can see here that they are using one tab to engage their visitors in various ways. Pizza Hut gets extra kudos for including links to their other social media accounts at the bottom.

8. Boston Pizza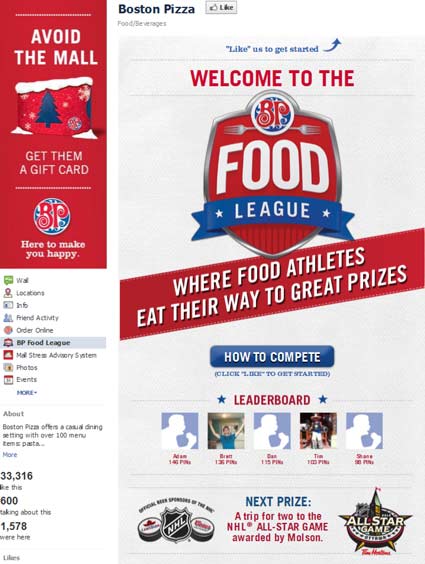 Boston Pizza uses the thrill of competition to engage their fans and.... it works for them, just look at the numbers!
9. Donatos Pizza
Donatos Pizza made a standout presentation on their page. I also love the saying "The Difference is Delicious."
10. Stevi B's Pizza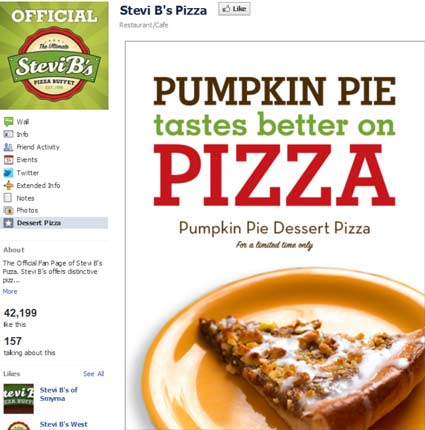 Although Stevi B's Pizza has a simple custom tab design, its imagery and message packs a punch. Might I add that I love their profile picture. Instead of opting for a long banner, they added a stylized green background to the logo to give it pizzazz, plus it looks like there was more effort put into the design rather than simply putting their logo on a plain white background.
11. Marco's Pizza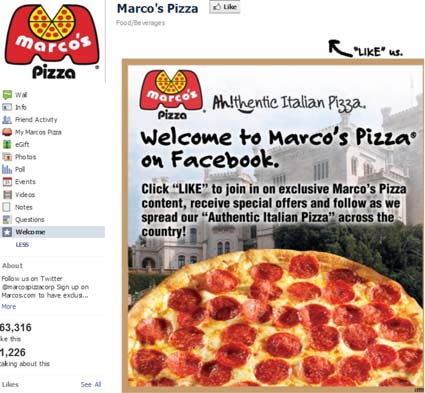 Marco's Pizza has a nice welcome tab inviting members to join for exclusive content and offers.
12. Chanello's Pizza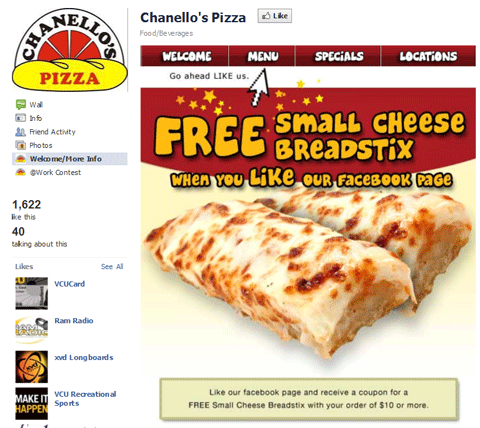 Here's a strategy that a lot of fan pages use. When you "Like" their page they offer a free item/incentive and also invite the user to sign up for email updates.
What do you think of these custom Facebook Fanpages?
I hope this post about custom Facebook fanpages will inspire you to create a cool tab of your own or have a designer like me create one for you.
I would love to hear what you have to say about this post or any of the custom Facebook fanpages shown. Follow me on Facebook and let me know what you thought of thought of this article or what industry you want me to feature next.
Stay tuned for more articles about custom Facebook fanpages... maybe next time it could be your industry that's highlighted.